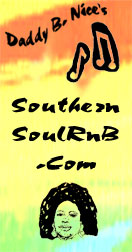 DADDY B. NICE tribute (continued)
Mendenhall didn't tour a great deal, and his album output was small, but for those of us who became acquainted with his music in the late nineties and early 00's, his material-uncompromisingly original, catchy without being commercial--will remain unforgettable.
One could hear bluegrass, reggae, and Zydeco blending with gospel and R&B in Mendenhall's songs, and his raw, folksy vocal tics made the cuts even more fascinating. You never confused a Mendenhall song with anyone else.
In the latter years the up tempo song, "Party With Me Tonight," a feverish (for Mendenhall) rocker done in his typically unique and out-of-left-field style, from the Hard Times disc, gradually eclipsed the prior Mendenhall standards, "Shont Dont Dont" and "Time." Now they're all just part of the fabric of his lifetime. DBN.
(From Daddy B. Nice's Southern Soul RnB Artist Guide to Frank Mendenhall)